newPark – Visions find space
Over the next few years, the newPark industrial area on the northern edge of the Ruhr Metropolis is to become the location for new industries and jobs of the future.
The planned area of around 290 hectares offers sufficient space for large industrial investment projects. Large companies with their network of suppliers and service providers are expected to be able to settle in newPark in the medium term. A commercial and industrial area of around 156 ha will be created for the settlement of companies in the various areas of newPark.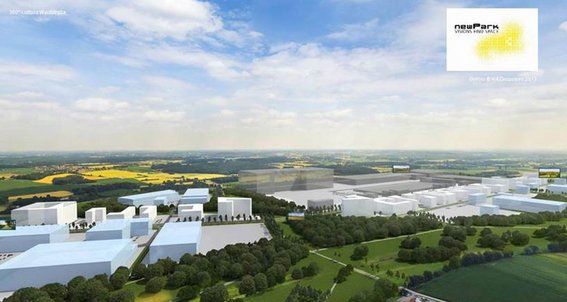 Made to grow: Ideal for Industry 4.0
newPark is to be the first large Industry 4.0 landscape for digitally networked future factories and innovative manufacturing processes in NRW. A new innovative production and service environment will provide ideal conditions for the fourth industrial revolution. The basis will be a fiber optic network, an environmentally friendly energy supply and an attractive urban planning ambience in the park.
Additive manufacturing processes play a key role in manufacturing products tailored to customers' needs.

Innovative services relating to Factories 4.0 will be provided: The digital infrastructure ranges from a newPark data center and communication networks to a security architecture. Logistical services organize the flow of materials from purchasing to the customer.

Service providers offer research, consulting and engineering. Specialized centers or measuring and testing laboratories combine surface treatment and quality control.
newPark pursues a consistent GreenTech concept. Companies will find an environment that corresponds to their own orientation and approach and enables them to implement GreenTech in research, development and production.
newPark – Economic zone in a strong region
At the center of one of the largest conurbations in the EU
The newPark industrial area is located in one of the largest European conurbations, the Ruhr Metropolis. 9 million people live within a radius of just 50 kilometers. This is comparable to the metropolitan areas of Paris and London. More than 60 million consumers can be reached within three hours by truck.
The Ruhr Metropolis is one of the most important economic centers in Europe. 16 of the top 100 and 43 of the top 500 companies in terms of sales in Germany have their headquarters in the Ruhr Metropolis. Among them are internationally active companies such as ThyssenKrupp and Evonik Industries. The corporate headquarters provide important impulses and innovations from which companies from related industries can all benefit jointly.
Specialists for your corporate success
With its long industrial tradition, the Ruhr Metropolis offers a large pool of qualified employees with industrial experience as well as junior science staff. More than 8,000 university graduates – including numerous engineers – emerge from the region's universities and universities of applied sciences every year.
In the middle of one of Germany's leading science and research regions
The Ruhr Metropolis is already one of the top 3 science regions in Germany after Berlin and Munich.
With five universities and 18 other institutes of higher education attended by more than 250,000 students, the Ruhr Metropolis is the densest university region in Europe.
In addition, the region offers a large number of non-university research institutions, including four Fraunhofer Institutes, three Max Planck Institutes as well as numerous research institutions dealing with GreenTech.
An attractive region offering cultural diversity
Living in the surroundings of the planned newPark industrial area means combining the advantages of the Ruhr Metropolis with the more rural Münsterland. Whether you prefer living space in a lively city or in a quiet, idyllically located place: Thanks to the region's well-developed infrastructure, you can reach the newPark site in a short time and, in addition, a wide range of cultural, educational and consumer amenities.