Let's start up!
Every fifth German startup now comes from NRW. This is not surprising as the state offers an exciting market with nearly 18 million inhabitants, around 711,600 small and medium-sized enterprises and a large number of global players from trade and industry. A strong ICT industry, an outstanding talent pool, 68 universities and top researchers in all major areas of digital change offer an excellent environment for companies in the digital economy to develop in NRW.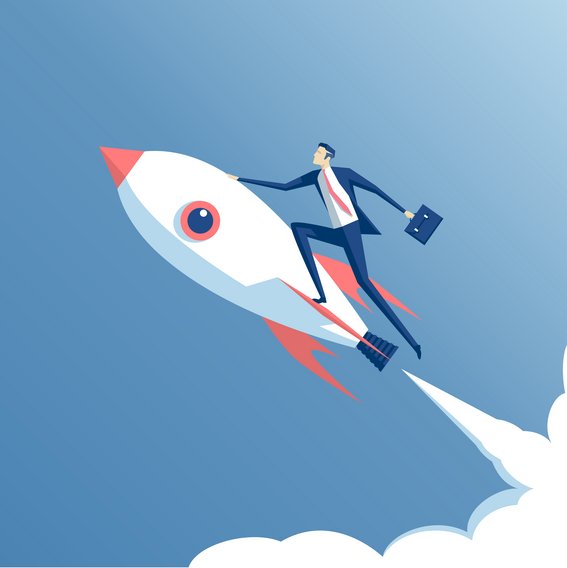 Growing young startup scene
Growing young startup scene
Young startups in the seed and foundation phase can now find a dense network of supporters in NRW. Incubators such as "Startplatz" in the Rhine cities of Düsseldorf and Cologne or "Co:Forward" in the Aachen region promote startups with work spaces and qualification measures. The state government established five regional "Digital Hubs" in Aachen, Düsseldorf/Rhineland, Cologne, Münsterland and the Ruhr region to connect startups with small and medium-sized enterprises and large industrial companies, among other things. More and more NRW companies are also developing their own accelerator concepts in order to invest in innovative technologies and business models. For example, Haniel recently started operating its Corporate Accelerator Schacht One at Zeche Zollverein in Essen. The energy companies E.ON and the RWE subsidiary Innogy are also focusing on such models with the E.ON Agile Accelerator in Düsseldorf and the Innogy Innovation Hub in Essen.
Every fifth German startup comes from NRW
Every fifth German startup comes from NRW
NRW is not only the beating heart of the German economy. The state is also poised to become the leading location for the digital economy in Germany. Although everyone talks about Berlin when it comes to startups in Germany, the German Startup Monitor 2018 shows that NRW is on the advance. Today, the state is already ahead of Berlin and all other German regions in terms of the number of digital startup companies. Around 19 percent of all startups in Germany are now based in NRW. The Rhine-Ruhr metropolitan region in particular is gaining ground.
Excellent market opportunities
Excellent market opportunities
The North Rhine-Westphalian economy is taking major steps towards digitization along the entire value-added chain. With its high density of industrial and commercial enterprises, as well as around 711,600 small and medium-sized enterprises, the location offers countless customers and cooperation partners for digital technologies. Many companies, such as T-Mobile, Metro Group and Evonik, are now promoting digital business ideas in their markets with their own shareholding capital. Another advantage of the location is its strong ICT industry. As a provider of intelligent software and hardware components, it is an important driver for digital transformation. At 103 billion euros, NRW companies generate around one third of all German sales in this segment. More than 210,400 people work in ICT companies in NRW.
An outstanding talent pool
An outstanding talent pool
There are around 770,000 students at the state's 68 universities. That is more than in the Paris metropolitan area and four times as many as in Berlin. Around 90,500 of them are studying in the fields of computer science and electrical engineering, bringing core competences to the digital economy. So it is not surprising that companies in the digital economy in NRW can cover three quarters of their staffing requirements with local employees. By comparison: In Berlin, every second employee has to be recruited outside Germany in order to cover the personnel requirements of the companies.
Top research
Top research
Smart minds are researching all over the state into the digital world of tomorrow. The state's researchers focus on all the key topics of digital transformation: from Big Data, Industry 4.0, CPS, Smart City, IT security and IoT to logistics, energy and robotics / AI. They include: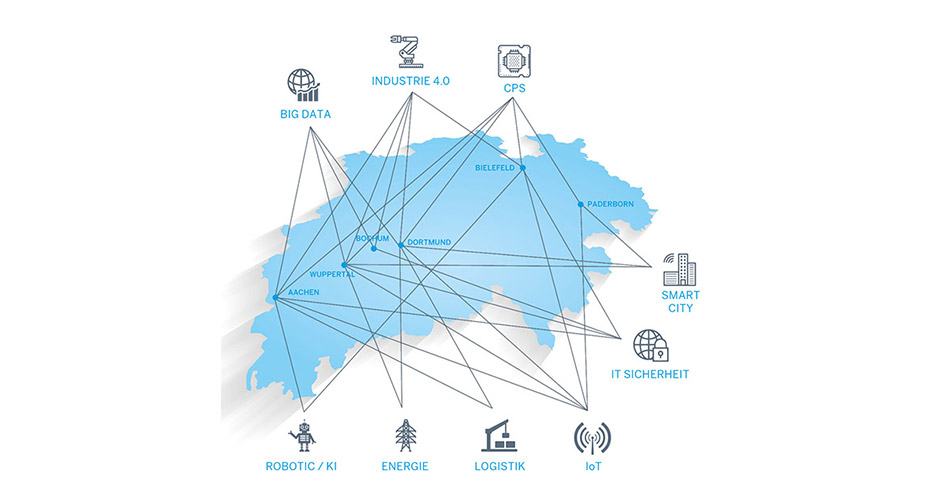 Grown at the location
Grown at the location
The talent pool in NRW is also the main reason why the online travel portal Trivago is staying in Düsseldorf with its new company headquarters. Since its foundation in 2005, the company has become the world's largest hotel search engine. When it was sold to the US investor Expedia, Trivago earned 477 million euros, one of the biggest exits in German startup history. Although the company is now listed on the US stock exchange, Trivago is building its corporate headquarters in Düsseldorf. Here it can attract enough employees for its enormous growth. In the past two years alone, Trivago has more than doubled its workforce from 500 to over 1,100 employees.
From Silicon Valley to NRW
From Silicon Valley to NRW
Cumulocity, a spin-off of Nokia Siemens Networks, provides cloud services to industry. Founded in Silicon Valley, it decided to move to NRW in 2012 in order to expand its industrial customer structure worldwide. From NRW, the company has already found 200 partners, such as Deutsche Telekom, with whom it is implementing the Internet of Things for industry. With these and other collaborations, Cumulocity now connects millions of devices with their operators worldwide.
Close to industry and research
Close to industry and research
Bitstars, a spin-off at RWTH Aachen University, began its success story with augmented reality applications for mobile devices. Later, 3D developments followed which are used in the construction or operation of industrial plants. With international success – Bitstars now has a branch office in Silicon Valley.
Purchasing power at the location
Purchasing power at the location
Investors greatly appreciate the enormous purchasing power present In NRW. Around 160 million people live within a 500-kilometer radius of the state capital Düsseldorf, which is almost a third of all consumers in the EU. The inhabitants of NRW alone spend more 360 billion euros annually.