Find vacant commercial sites with GERMAN.SITE
With the free commercial site portal GERMAN.SITE you will quickly find the right site for your investment project in North Rhine-Westphalia. GERMAN.SITE helps you to search for suitable plots of land and real estate, provides important details on all commercial sites and puts you in touch with the right partners.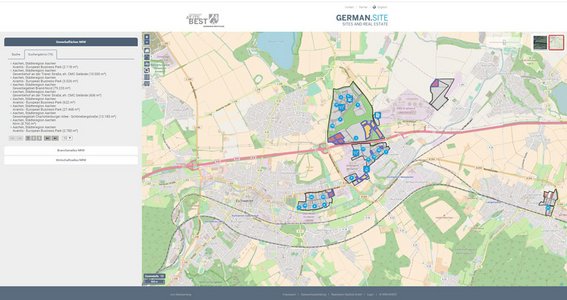 The tool to help you find the ideal commercial site
The following combinable search criteria at GERMAN.SITE provide you with a detailed overview of the available commercial sites, tailored to the individual needs of the investment project in question:
Size
Type of site
Location
Transport links
Economic environment
Regional industry mix
In addition, different diagrammatic, topographic and interactive maps as well as aerial views and the link to Google Earth provide further details on the sites, such as their infrastructure and research and university locations or industry concentration in the surroundings.
Furthermore, GERMAN.SITE includes links to local authorities and local economic development agencies, where you will receive further information about the location in question. The data in GERMAN.SITE are updated and supplemented continuously online by the municipal and regional economic development agencies in North Rhine-Westphalia.