North Rhine-Westphalia: At the center of the energy transition
By 2025, 40 to 45 percent and by 2050 at least 80 percent of Germany's energy is to come from renewable sources. The energy transition poses a major challenge, particularly for the industrial state of North Rhine-Westphalia. This makes the successes that the state has already achieved in the course of converting the energy system, as well as the numerous research and innovation projects in this area, all the more remarkable.
Germany is in the process of moving toward a greener power supply. Wind and solar energy represent the most important energy sources, while biomass and hydropower also make a valuable contribution to sustainable energy production.
With the gradual restructuring of its energy industry, North Rhine-Westphalia | NRW is also benefiting from this development. Five of the world's leading gearbox suppliers for wind turbines alone are based in NRW, as is Europe's largest producer of renewable energies, Statkraft. In addition, there are E.ON, RWE and Uniper, three of the world's leading energy suppliers, as well as other major players in the market such as Trianel, Europe's leading municipal utilities joint venture, and Vaillant, an expert in heating technology based on renewable energies.
3,767 wind turbines and 280,000 photovoltaic systems produce green electricity in NRW, and the state has set a new record in the area of climate-friendly heating energy: Almost half of all newly built houses are supplied primarily with green electricity. Thanks to measures like these, the state was already able to achieve its climate targets for 2020 in 2017, but still faces a major challenge on the way to the Paris climate protection goals for 2030. North Rhine-Westphalia aims to meet this challenge by phasing out coal and significantly expanding renewable energies. By 2050, the state plans to handle its energy supply primarily via wind, photovoltaics, gas-fired power plants in combined heat and power, geothermal energy and green hydrogen. The output of wind and photovoltaic plants is to be doubled as early as 2030.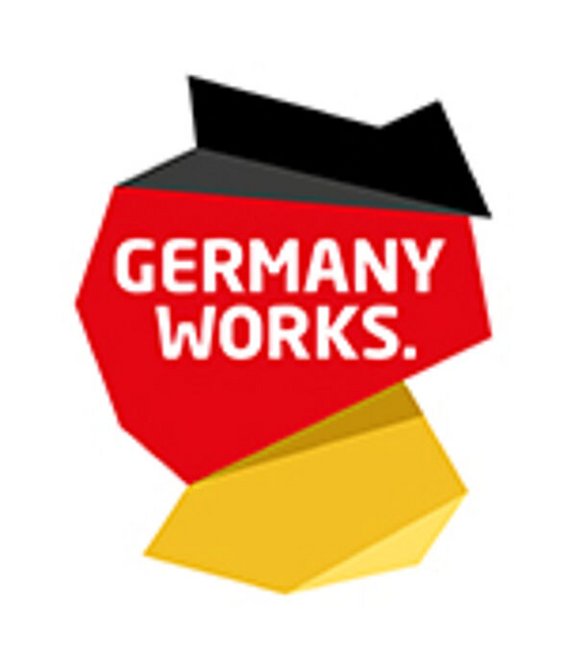 North Rhine-Westphalia - an important driver of innovation
North Rhine-Westphalia - an important driver of innovation
When it comes to shaping the energy transition, the Ruhr region is regarded as a major source of impetus: In addition to the traditional industrial sectors of energy, steel and chemicals, forward-looking economic sectors such as biotechnology and a rapidly growing start-up scene are also represented here. These are ideal prerequisites for driving structural change throughout Germany as an innovation location.
Numerous companies are already demonstrating what the future of energy supply will look like: For example, Next Kraftwerke has been working for ten years on how electricity from weather-dependent sources can be optimally utilized and stored. The energy company now operates one of the largest virtual power plants in Europe and connects biogas, wind and solar plants with commercial and industrial customers. Another example is the Cologne-based start-up envelio: The spin-off from RWTH Aachen University has developed a platform that allows modern grids to be planned and operated digitally and automatically. The Intelligent Grid Platform helps to integrate the large number of new photovoltaic and wind energy plants as well as charging stations into the existing distribution grids.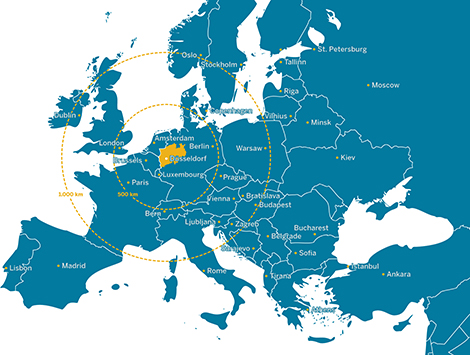 Smart energy concepts set new standards
Smart energy concepts set new standards
The Recogizer Group from Bonn also uses artificial intelligence to use green energy efficiently while conserving resources. The company specializes in smart buildings and has developed a self-learning system that reduces energy consumption and avoids CO2 emissions. Thanks to the system, air-conditioning systems consume 20 percent less energy and the indoor climate improves automatically.
Rhineland on the way to becoming a model region
Rhineland on the way to becoming a model region
Severely affected by the coal phase-out, the Rhineland region in particular is facing an economic transformation – providing an opportunity to develop into a European model region for energy supply and resource security. The "StoreToPower" (RWE) and TransUrbanNRW (E.ON Energy Solutions) projects show how innovative North Rhine-Westphalia's companies are in shaping this transformation. Both projects are among the winners in the nationwide competition "Reallabore der Energiewende" (Real Labs of the Energy Transition) and provide important growth impetus for the Rhenish mining region.
In the RWE project "Reallabor Wärmespeicherkraftwerk StoreToPower" (Real Laboratory Thermal Storage Power Plant StoreToPower), a high-performance storage facility for electricity from renewable energies is to be created at a former coal-fired power plant site, thereby making an important contribution to the storage of renewable energies, to security of supply and to the subsequent utilization of existing energy infrastructures in the region. The German Aerospace Center (DLR) and Aachen University of Applied Sciences are also involved in the project.
The aim of TransUrbanNRW (E.ON Energy Solutions) is to transform the heat supply at five locations in the Rhenish mining region. In the real laboratory, 5th generation heating grids are to be used that integrate renewable energies and waste heat at all temperature levels.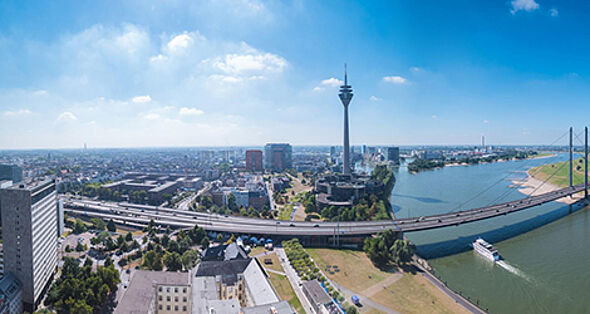 Research for tomorrow's energy supply
Research for tomorrow's energy supply
With its unrivaled research landscape, North Rhine-Westphalia offers ideal conditions for technology transfer – especially in the field of energy management. 120 institutes at more than 30 universities, around 20 non-university research institutions and the research departments of numerous companies, are involved with energy technology in research and teaching.
One of these players is the German Aerospace Center (DLR), which is working on synthetic fuels in addition to solar and wind energy: In the DLR research project "Future Fuels", researchers are investigating how synthetic fuels can be produced as climate-neutrally as possible using solar energy and electrolysis processes (solar fuels), and are shedding light on factors such as economic efficiency, performance and security of supply. At the DLR's Jülich site, on the other hand, the focus is on solar research: as part of the "Synlight" project, the world's largest artificial sun has been set up. It has a light intensity that corresponds to 10,000 times the natural solar radiation on the earth's surface. Among other things, solar-generated hydrogen is being researched in a test environment as the fuel of the future.
With Münster Electrochemical Energy Technology (MEET), NRW is also home to one of Germany's largest battery research centers. At the facility of the University of Münster, an international team conducts research into innovative electrochemical energy storage systems, working closely with other scientific institutions and partners from industry. One of the central projects is the establishment of a research factory for battery cell production that is unique in Germany and takes into account the entire life cycle of a battery cell.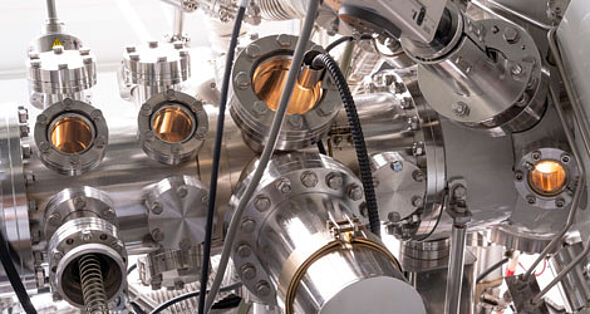 Driving the development of the hydrogen economy
Driving the development of the hydrogen economy
Hydrogen is a key element in achieving climate protection goals and modernizing NRW as a business and energy location. With strong research and innovative companies, the state is driving this development and working on the climate-friendly transformation of industry and the transport sector in North Rhine-Westphalia.
For example, the American manufacturer of fuel cells for e-mobility, Plug Power, recently selected the Ruhr Metropolis as the location for its European headquarters. The company will initially create 60 jobs in engineering laboratories, technical customer support, logistics and training by mid-2022.

Enapter, the hydrogen technology specialist from Thailand, is building a mass production facility for highly efficient hydrogen generators based on anion exchange membrane (AEM) technology in Saerbeck. Modular systems for the production of green hydrogen will be manufactured and enhanced at the "Enapter Campus" in the future.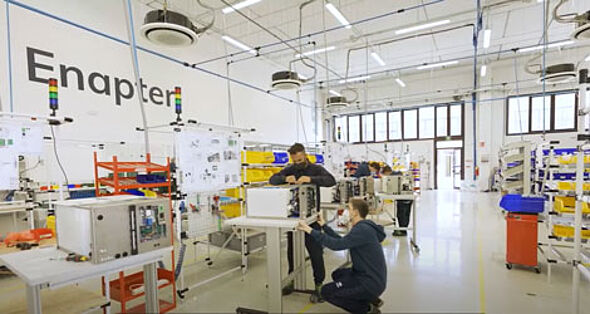 Harnessing digital technologies for power supply
Harnessing digital technologies for power supply
The Institute for Climate, Environment and Energy in Wuppertal is providing further important impetus for a greenhouse gas-neutral future. In 2020, the project "Transformation Roadmap Digitalization and Sustainability" was launched here, analyzing the opportunities and risks of the digitalization process. Energy supply plays a crucial role, because on the one hand digitalization is driving up electricity consumption, while on the other hand it offers a wide range of opportunities to make supply more sustainable.
In the interplay between power supply and digital technologies, North Rhine-Westphalia is also focusing on the topic of blockchain. As a pioneering model project, a blockchain real lab is being set up in the Rhineland region in which science, companies and startups are jointly testing applications – for example in municipal water supply or the smart billing of energy consumption.
Overall, North Rhine-Westphalia offers optimal conditions for investments in the field of renewable energies – and with a global orientation. After all, North Rhine-Westphalia is not only the largest energy location in Germany, but also the most important energy region in Europe.
British spirit
British spirit
More than 20,000 international companies have already decided in favor of NRW and control their German or European operations from NRW. Currently 1,700 British companies like AO, BP, Computacenter, Dyson, GLS, Lush and Vodafone feel at home in NRW. Over 20,000 UK nationals have settled in the region, representing almost a quarter of Germany's British population. Attracted by the state's opportunities, diversity, convenient position, cultural attractions and living conditions, they're clearly on to a good thing. Profit from the countless possibilities and conditions the state has to offer you.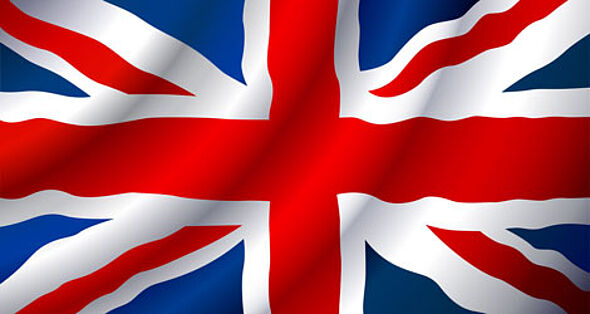 How to get your business to North Rhine-Westphalia | NRW
NRW is unique in many ways. Profit from the countless possibilities and conditions the state has to offer you. Regardless of your industry or the project concerned, this is where you find the ideal prerequisites for new opportunities. Contact us – we will gladly convince you, too.
With our "One Stop Service", we are on hand every step of the way as a central, expert and confidential point of contact for any questions concerning your settlement project. NRW.Global Business supports companies to invest and to set up in Germany's No 1 investment location: NRW.
In 4 easy steps to North Rhine-Westphalia | NRW
We support you in your successful settlement in NRW with our international offices abroad and our headquarters in Düsseldorf. We are your partner and accompany the project in confidence – from the first contact to the successful settlement and beyond.
Welcome to NRW! Welcome to Europe's heartbeat!
Germany's number one investment location, the economic powerhouse that drives Europe forward, is coming up with a brand new marketing campaign for the region. Have a sneak peak.